TEX Solutions sponsors Race Across The Nullabor to Stop Cancer
17-Oct-2014
Race Across the Nullabor to Stop Cancer
What would possess 2 men to embark on a solo vehicle race in
a 36 year old car covering 4400 kilometres in 4 days across the
continent of Australia?
The answer is simple, to help a charity dedicated to stopping cancer,
a disease that has touched everyone in our society in some way
either directly or through family and friends.
The race commenced on October the 9th and concluded a day
later
than intended due to a small mechanical issue that forced
the race to head to Adelaide a diversion that cost the team 500klm.
The extra distance was covered in a car that could have had a
blown head gasket. Thankfully the problem proved to be a single
bolt that had fallen out of the cylinder head.
The status at present is the car has completed the race and the
Cure Cancer Australia fundraising is still running aiming for a
target of $3950 or $1 per kilometre representing the original
race plan.
sponsor the event and a number of very kind donations have
helped the fundraising to reach $1545, a commendable effort
considering the fundraising was only established a week before
the start of the race.
If you would like to donate to Cure Cancer Australia, the
fundraising portal is still open at
http://curecancer.gofundraise.com.au/page/911SC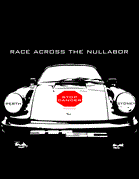 ---